Cedar split rail fencing has a wonderful country feel to its appearance that makes it a great choice for landscape fencing or defining property lines. These posts and rails are unique in their craftsmanship and the aesthetically pleasing way they curve in and around knots.
They are carefully manufactured and tighly graded for size, strength and appearance. Left untreated the cedar post and rails will turn a light silver-gray; however a stain or clear sealer may be applied to keep the beautiful cedar color.
The fence posts are drilled and the rails are tenoned so they are easy to install.
| | | |
| --- | --- | --- |
| RAILS | length | pcs/unit |
| Standard: | 8' | 160 |
| Standard: | | 155 |
click on underlined sizes to see stock photo
We find mills that concentrate on manufacturing the nicest product available, at a sensible price. By stocking the more standard size products, we can bring you consistent quality and make it easier to deliver even the smaller orders by mixing it in with our truck loads delivering to retailers in California.
Red cedar is both beautiful and durable. The durability comes without chemical preservatives since the heartwood of red cedar has its own resins, tannins and oils that make it highly resistant to rot, insects, and decay-causing fungus. It is important to note that all studies of durability focus on
heartwood
. In general,
sapwood
, regardless of species, has a low resistance to decay.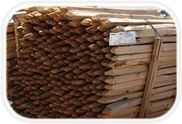 Often referred to as a Stack Fence, Worm Fence or Battlefield Fence, this typical early pioneer fencing offers both natural beauty and rustic charm. Installation is easy and because no post hole drilling is required, this stack style is especially popular in difficult soils and rocky terrain.
Because this fence is entirely above ground level, it is virtually rot free and can be offered in both White Pine and Red Cedar species.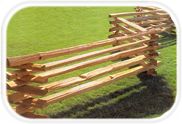 Our Western Red Cedar grape stakes are actually hand split and pointed. They are commonly used with head-trained, spur-pruned grapevines. This stake has been used by California wine growers since the early 20th century. Decommissioned stakes have been reused as grape stake fencing.
| | | |
| --- | --- | --- |
| size | length | pcs/unit |
| | | 300 |
| 2" x 2" | 7' | 300 |
click on underlined sizes to see stock photo